Description
Made in Germany by American 3B Scientific, this scientific grade human skeleton model is unique in its near lifelike realization of the joint mechanisms. Phil the physiological human skeleton model allows you to demonstrate the inward and outward rotation of the arms and legs and the extension and flexion of the knee and elbow joints. The flexible spine allows for natural movement (lateral inclination, movement and extension, rotation). The bones of the hands are mounted on wire to demonstrate their natural positions. The foot bones of this human skeleton are mounted flexibly to enable movability. Even the restricted mobility of the iliosacral joint and the sacrococcygeal joint can be demonstrated.

Phil is cast from a natural human skeleton and is accompanied by a 3 year warranty through 3B, as well as a stand and dust cover. He is crafted of unbreakable plastic and is of comparable weight to a real skeleton. Teeth are individually inserted and his skull is made of 3 parts. Phil is 75.8 in tall and weighs 21 lbs.
3B Smart Anatomy
3B Smart Anatomy – the new way of learning and teaching human anatomy
3B Scientific launched the innovative concept of combining extensive virtual content with its original anatomical models called 3B Smart Anatomy in July 2019. With this exclusive upgrade, customers have immediate access to 3B Smart Anatomy courses in the award-winning Complete Anatomy app and receive a free warranty extension from 3 to 5 years with every anatomy model by 3B Scientific.
The high-tech label that unlocks it all

On each original 3B Scientific anatomy model, customers will find a smart label with NFC technology and a QR code. This smart label either is located on the base or attached to the model itself as a tag. In order to access all benefits of 3B Smart Anatomy, a quick and secure registration process has been set up. It is initiated upon scanning the label and instantly unlocks all features upon completion of the registration.
The concept of Virtual meets Reality in anatomy education

3B Smart Anatomy has been developed with the concept of Virtual meets Reality in mind. It is an exclusive combination of the extremely realistic anatomical models that can be taken apart for a tactile representation of human anatomy with incredibly detailed virtual models in the multiple-award winning Complete Anatomy app. 3B Scientific has teamed up with 3D4Medical, the specialist in the development of realistic anatomical content in the virtual format of an anatomy app to create an extensive course library of 3B Smart Anatomy courses. 3B Smart Anatomy courses come free with every registered 3B Smart Anatomy model and include 23 anatomy lectures, 117 interactive virtual models and 39 quizzes. The anatomical model that has been rendered in 3D offers the user over 13,000 anatomical parts to create an unprecedented realistic and high resolution content to be accessed anywhere and anytime on a smartphone, tablet or laptop.
An exceptional warranty highlights the quality of 3B Scientific anatomy models
3B Scientific has actively shaped the market for anatomy education with its high quality and detailed anatomical models for many years. The quality standards upheld in every single 3B Scientific anatomy model and continuing in every 3B Smart Anatomy model are unprecedented. We stand by the promise to continue to supply this level of quality and have decided to offer our customers a FREE warranty upgrade from 3 to 5 years.
How does 3B Smart Anatomy work?
Registration is free, easy and secure: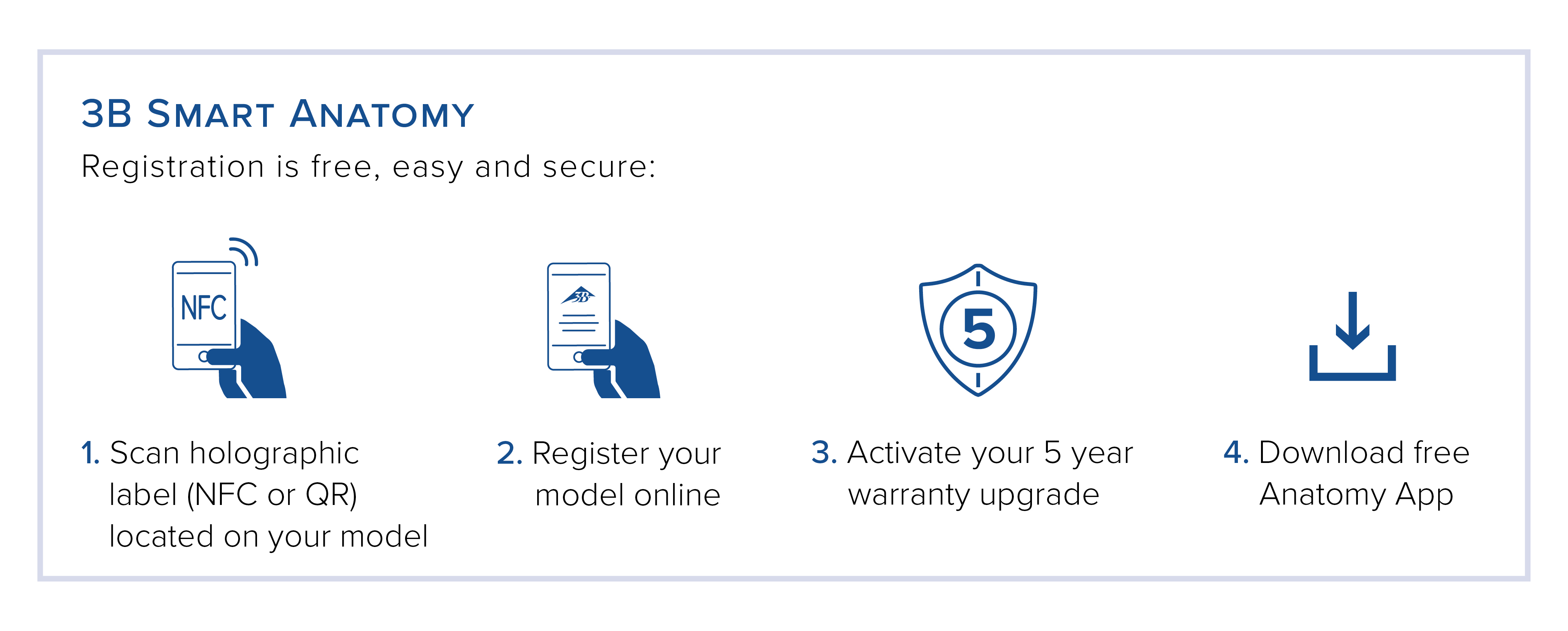 Once your registration is completed, you instantly have access to 3B Smart Anatomy courses and the free trial to the full version of the Complete Anatomy app. While the trial for the full version of Complete Anatomy Student Plus lasts for three days, access to all 3B Smart Anatomy courses remain active for a whole year.
The Complete Anatomy app is currently available in English, further languages are in the works.
With the 3B Smart Anatomy courses, you receive access to 23 anatomy lectures, 117 interactive virtual models and 39 quizzes. These are constantly being expanded to cover even more anatomy course topics.
View All
Close
Additional Information
| | |
| --- | --- |
| Best Uses: | Medical Education |
| Product Class: | Top-Tier |
View All
Close